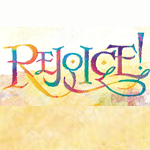 There's a lot to rejoice about at the moment in Australia. New cases of COVID are almost unknown. Restrictions are being eased. Vaccines are becoming available. Most of us can gather with family and friends for Christmas. Life is slowly returning to normal.

The Church is rejoicing this Sunday, too. The idea that the Church rejoices might seem strange. Often we have an image of the Church that is more like a stern-faced person with a wagging finger than the smiling Pope Francis.

The Church is not called to be God's policeman in the world. The Church is called to be God's heart in the world.

What we are rejoicing in this Sunday is that the coming feast of Christmas reminds us that we carry the heart of God within our own. God didn't just make a brief appearance once in human history, a long time ago. We rejoice that God has always been with us, whether we realised it or not. God has never left us. God is with us still.

Our faith, our living relationship with Christ, is meant to be lived openly, generously and graciously, at the service of our brothers and sisters in the world by being the living presence of Jesus in our own day and age.

Read the Gospel reflection for this Sunday.
Join us in celebrating at home this Sunday using the resources below.
Celebrating At Home 3rd Sunday of Advent 13 December PDF
Celebrating At Home 3rd Sunday of Advent 13 December EPUB
Lectio Divina for 3rd Sunday of Advent 13 December PDF
Lectio Divina for 3rd Sunday of Advent 13 December EPUB