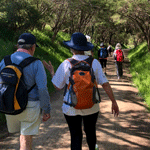 LED by Fr Paul Sireh OCarm a group of 30 participated, including 11 new pilgrims, walked the Ninth Annual 45 km pilgrimage in the beautiful Yarra Valley. The pilgrimage, organized by The Carmelite Centre Melbourne, took place over 3days along the rail trail from Lilydale to the Carmelite Sancta Sophia Meditation Community in Warburton.
Following a commissioning liturgy led by Fr Hugh Brown OCarm and Fr Paul Sireh OCarm at Our Lady of Mount Carmel Church, Middle Park on Sunday 4 November, the group began the walk on Friday 9 November in Lilydale.
The walk took place over three days where pilgrims walked 16km, 18km and 6km on each of the days. The pilgrims were transported to and from walking tracks via bus and the accommodation at Pallotti Retreat Centre, Millgrove.

On the first evening Martin O'Brien, one of the pilgrims and an ornithologist, gave a talk on some of the plant life and inspired the group to walk on the next days with attentiveness to listening and seeing what is around the track.
On the second evening Fr Paul's talk reflected on the symbols of the pilgrim journey, in particular the scallop shell and the rippling effect between each one individually, others and toward God. The ripples between the group during the weekend would continue on after the weekend and continue impacting our lives and connections within the Carmelite family.
Fr Paul's talk also situated the Carmelite journey from its origins on Mount Carmel to today which is an example of the ripples with God over many generations in building links between God, self and community.
On Sunday morning pilgrims walked from Pallotti to the Sancta Sophia Meditation Community where Fr Ken Petersen OCarm and Sr Kathleen Murphy welcomed the group to join the Eucharist which was led by Fr Paul and Fr Ken. The group then shared time over a picnic lunch before returning home by bus and train.
Many warm and encouraging comments were made after the pilgrimage weekend about the time being filled with faith, fun and community.
The pilgrimage is made possible with these gratefully received contributions:
Whitefriars College and Sacred Heart Mission Bethlehem for making the buses available
the generosity of bus drivers Rob de Losa and David Cheah
flexible and excellent hospitality provided by the Pallotti Retreat Centre
the presence of Fr Ken and Sr Kathleen during our evenings and
the welcome of the Sancta Sophia Meditation Community on the Sunday.

In 2019 the TENTH Carmelite Way Pilgrimage will be held from 8-10 November.

Please contact the Centre with your expression of interest: This email address is being protected from spambots. You need JavaScript enabled to view it. or www.thecarmelitecentremelbourne.org