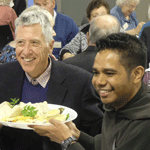 At our recent Donors' Mass and High Tea our young Carmelites said a big 'Thank You' in words and song to our donors who support them in their studies. Over 60 people attended the Mass and High Tea at St Joseph's Church and Hall in Port Melbourne. Frs Paul Cahill (Prior Provincial) and Paul Sireh celebrated the Mass. Our young Timorese Carmelites studying in Australia sang during the Mass. At High Tea, they sang a special song of thanksgiving for the generosity of our donors. Br Matthew Tonini, on behalf of all the students, thanked the donors and spoke about what their contributions made possible.
Mayra Walsh, our Community Development Ministry Coordinator, spoke about the various projects underway in Timor to help disadvantaged people. These include the 2 schools and the boarding house in Zumalai and scholarships for young Timorese men and women to complete school and to study at university. Currently there are 26 scholarship students, 7 of whom will graduate from university this year.
Thank you to all our loyal donors who make so much possible for the Carmelites and the people we serve.
If you would like to support the Carmelites, please contact Nancy Mercurio on 03 9690 8822 or at This email address is being protected from spambots. You need JavaScript enabled to view it.