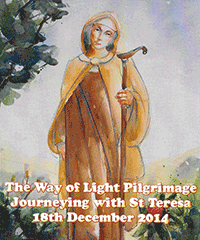 The original walking cane used by St Teresa of Avila during her journeys across 16th Century Spain arrived at the Discalced Carmelite Friars' priory in Varroville, NSW as part of a global "Way of Light" pilgrimage to mark the 500th anniversary of her birth.
So far the walking stick has been to Latin America, the USA, Indonesia and Taiwan. It will return to Avila in time for Teresa's 500th birthday, 28 March 2015. By the time the journey is over, the staff will have visited 5 continents, 30 countries and travelled 117,000 miles in 164 days.
Saint Teresa's walking staff is a wonderful symbol of her life. She had three gifts of grace: mystical experience, understanding and the gift of finding the words and images to express her understanding in her writings. Her spiritual teaching is a support for our own spiritual journey.
During the day about 100 pilgrims, some carrying the relic, visited Mt Carmel High School, Mt Carmel Church, Mount Carmel Retreat Centre and then the Carmel of Mary and Joseph where Eucharist was celebrated.
Fr Paul Gurr OCarm (Provincial Delegate for the Lay Carmelites) and Ms. Sue Stuckey (Prior of the Jamberoo Lay Carmelite Community) were present for the pilgrimage.