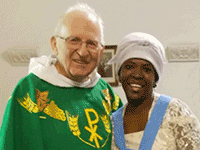 In 1956 three Carmelites from Australia, Fr William Morganti, Fr Robert Dowd and Br George Parsons travelled to Rhodesia (now called Zimbabwe) to work with the Irish Carmelites in their mission for the next 7 years.
Our Zimbabwean connection has recently been renewed when Fr Jim Des Lauriers was asked to be Chaplain to the Zimbabwean community in Victoria.
In October 2013 Zimbabwean Catholics gathered in Perth for a congress attended by Fr Constantine Masarira, OCarm who travelled from Zimbabwe to attend.
Following the Congress Fr Constantine travelled to Melbourne and celebrated Mass at Our Lady of Mount Carmel Church, Middle Park for over 100 members of the Zimbabwean community. Fr Jim Des Lauriers concelebrated the Mass and preached in Shona. Fr Jim had worked in Zimbabwe for 10 years from 1961-1971.
Since early 2014 the Zimbabwean community has gathered at St Joseph's Church, Port Melbourne every six weeks for mass. Fr Jim has also celebrated mass for members of the Zimbabwean community in Adelaide and Brisbane. He has been appointed to the steering committee for the 2015 Melbourne Congress.
At the November Mass at St Joseph's members of the Zimbabwean community celebrated Fr Jim's 80th birthday and 60th anniversary of profession as a Carmelite.
{gallery}2014_Zimbabwe{/gallery}