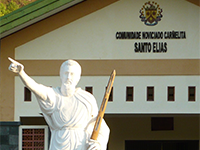 I have just returned from my 5th visit to Hera. There are many improvements to be seen as soon as one leaves the airport; the huge memorial fountain at the roundabout is repaired and painted, with water flowing abundantly. The Comoro Bridge is now open in both directions with the road into town divided, with saplings planted in the centre all the way. New buildings are beginning to emerge, both public and private.
As is always the case, a warm welcome awaited me at Hera. It was good to meet up with former students and hear them speaking English so well. Also it was good to see the library so well patronised by the students at University and to be able to introduce some of our Carmelite collection to students I had either not met or not taught on previous visits. There were also many improvements in the garden: 9 cows, 3 pigs and 3 chickens have been added over the last 2 years and now a fish pond, complete with 50 fish. It is always a wonder to me how the brothers find something to eat in the garden for every meal. Their dedication to watering their garden plots through the dry season is to be admired.
Life never goes according to plan in Timor, so although I arrived with a brief to continue work in the library and to teach the 3 novices English and Research/study skills, I found I was also teaching 13 pre novices at Fatuhada (in Dili) 2 days each week. After 2 lessons the rumour went around that "Mum Sue" was 90 years old. A student had overheard me saying I left England when I was 19 years old, but was unaware of the difference! This caused great amusement during the whole of my visit. I'm hoping their English will improve!
One of the many reasons I go back to Hera each year is this infectious sense of humour of the brothers. Another example: while teaching at Fatuhada Fr Pascalis went shopping and returned to pick me up with a full truck of those huge 5 gallon water bottles and lots of food. I said good bye to everyone, they all waved and shouted good bye (as they do!), then I jumped into the front seat, only to be followed by them all, jumping in amongst the bottles and boxes of food. They thought it so funny that they had played a joke on me and that I did not know they were coming back to Hera! However amidst all the laughter, we left Camillo behind! He came home later, none the worse for wear.
On All Soul's Day I was privileged tor accompany Fr Pascalis to Fatokkun, where a church has been built by a Carmelite supporter from Australia. People were flocking to the church, laden with baskets of flowers, candles and goodies, all to be blessed before taking them to the graves of their loved ones. Although there were no homes to be seen in the area over 400 people gathered with their children for the Mass and Blessing and of course a big feast afterwards. Although Fatokkun is only 36 kilometres from Dili it took 2 1/2 hours to get there, such is the dedication and enthusiasm of our Friars.
On my last visit to Timor in 2013 I was lucky enough to visit Zumalai and the outlying hamlet of Beilaco, where two Filippino O. Carm Sisters, Mailyn and Remy were building their mission house, with the help of our Friars and Brother Antonio. By coincidence Sr Remy was staying overnight at Hera while I was there this year and she told me of their achievements since my first visit. Not only have they learnt Tetun fluently but they have also set up their house to include four aspirants, opened a makeshift kindergarten and a craft centre for the village women, weaving thais and learning the intricacies of sewing machines. What amazing work in under twelve months!
Sue Stuckey