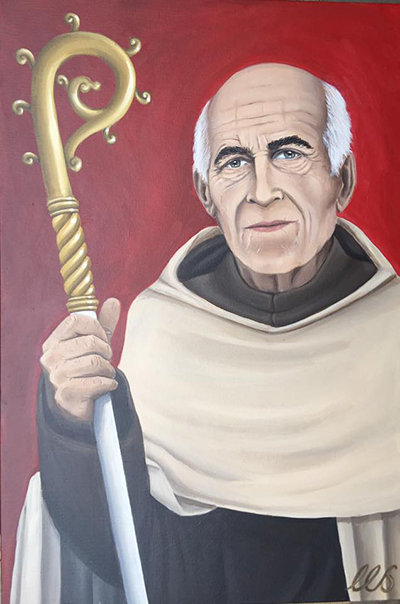 Andrew was born into nobility, a member of the powerful Corsini family of Florence, and was one of 12 children. He joined the Carmelite community at the Carmine on the southern bank of the Arno sometime before the year 1338. This community was known for its sanctity and regular observance amidst a more tumultuous environment of religious life in the early Renaissance period. After completing his studies in Florence he was teacher of the younger students in the community.
During the 1348 general chapter at Metz, he was made Tuscan provincial and briefly lead the province through the ravages of the Black Death that was to claim over 100 Carmelites. This election was short-lived because in October 1349 Pope Clement VI nominated him to be bishop of Fiesole, a town about 5 miles north-east of Florence. Taking up his episcopal duties in March of the following year, Andrew was faced not only with the consequences of the Black Death, but also with a diocese that had been neglected by his predecessors. The diocesan bishops of Fiesole had not lived in the diocese for over a century leaving the cathedral and diocese to fall into ruin. Andrew moved swiftly to repair the material and spiritual damage to his diocese, working tirelessly to rebuild the cathedral, restore parish churches, and improve the moral life of his priests.
Andrew went about establishing a small religious community around him, disbanding the large Episcopal entourage and reducing the number of house servants to six. He also invited two friars from the Carmine to live with him in community. He considered himself the "father and helper of the poor" and devoted special care to the sick in the wake of the devastation brought about by the plague. He was also an eloquent preacher of reconciliation, and a successful peacemaker in Fiesole, Florence, Prato and Pistoia.
Image courtesy Lucy Linton-Smith