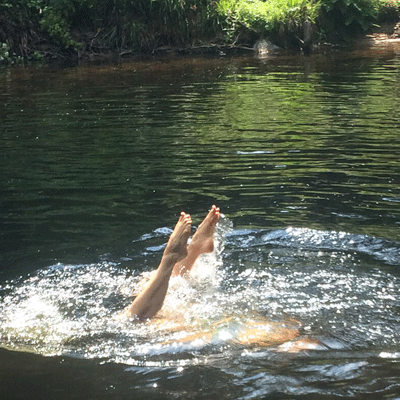 The beginning of the Good News about Jesus Christ, the Son of God.
It is written in the book of the prophet Isaiah: Look, I am going to send my messenger before you; he will prepare your way.
A voice cries in the wilderness: Prepare a way for the Lord, make his path straight,
and so it was that John the Baptist appeared in the wilderness, proclaiming a baptism of repentance for the forgiveness of sins. All Judaea and all the people of Jerusalem made their way to him, and as they were baptised by him in the river Jordan they confessed their sins.
John wore a garment of camel-skin, and he lived on locusts and wild honey.
In the course of his preaching he said, 'Someone is following me, someone who is more powerful than I am, and I am not fit to kneel down and undo the strap of his sandals. I have baptised you with water, but he will baptise you with the Holy Spirit.' (Mark 1:1-8)
Out of nowhere comes one of the most exotic people in the Bible. Like the wild man of Borneo he bursts onto the scene wearing camel skin and existing on a diet of locusts and wild honey. He must have made quite an impression. Mark's Gospel tells us that 'all Judea and the whole of Jerusalem' turned out to see and hear John, the baptiser.
John's teaching spurred many to be baptised – an ancient water-rite where people disappeared under the water of a local river or stream and emerged again. It was a way of saying, 'the old me is dead and a whole new me is emerging'. It was a way of expressing a real desire to turn towards God, seek forgiveness, and live a new life. People began to think he might be the long-awaited Messiah.
John was clearly an 'influencer' in his day. Yet, for all that, he didn't get lost in his own fame. He insisted that he was not the Messiah. Having gained the attention of the people, he tried to deflect attention away from himself and towards 'the one who is coming after me'. One who will baptise, not with water, but with the Holy Spirit of God.
Our Advent readings help us realise God's profound love for us and his presence within us through the Holy Spirit. Knowing that God will always treat us with love and tender care helps us to turn again towards him and to trust in the depth of his mercy.
Our Advent journey is showing us how to prepare our hearts for a fresh discovery of God's presence in our lives; how to recognise the hidden presence of Jesus among and around us; how to turn around and face towards God with faith, hope and love; and how to be the living presence of Jesus in our moment of history.
Read today's Gospel reflection.
Join us in celebrating at home this Sunday using the links below.
Celebrating At Home for 2nd Sunday of Advent 6 December PDF
Celebrating At Home for 2nd Sunday of Advent 6 December EPUB
Lectio Divina for 2nd Sunday of Advent 6 December PDF
Lectio Divina for 2nd Sunday of Advent 6 December EPUB