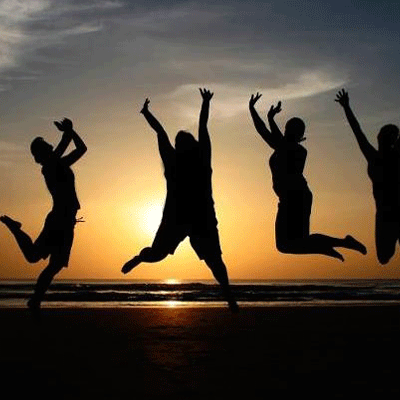 Well, that's what people in Victoria and in regional NSW are doing! But aside from restrictions being lifted and boarders opened, this Sunday's Gospel suggests a few more reasons for rejoicing and gladness.

This Sunday we are celebrating the Feast of All Saints. We are not just thinking about those officially recognised by the Church as saints. We are also remembering all those people who lived really good lives. We think especially of those who have helped form and shape us, made us better people through the goodness they brought into our lives. Many of us think immediately of our parents and of other people who have deeply influenced us, who showed us the face of God in one way or another.

When we hear the Gospel this Sunday blessing the poor in spirit, the gentle, those who mourn, who hunger and thirst for what is right, who are merciful, pure in heart, peacemakers or persecuted in the cause of right, abused and defamed for acting true to the spirit of Jesus, we recognise the kind of life to which we are called. This is how people of the Kingdom live; these are the qualities which mark their lives.

So different to the world around us where bullying and aggression are rewarded, gentleness thought to be weakness, hungering and thirsting for what is right said to be for 'lefties', peace-making for 'do-gooders' and abuse and defamation have become almost an art form on social media.

Being a Christian is a risky business, but living according to the great virtues of humility, justice, righteousness, forgiveness, mercy and peace is the way into God's eternal life here on earth, and into eternal life with God. So, rejoice and be glad!
Seeing the crowds, Jesus went up the hill. There he sat down and was joined by his disciples. Then he began to speak. This is what he taught them:
'How happy are the poor in spirit: theirs is the kingdom of heaven.
Happy the gentle: they shall have the earth for their heritage.
Happy those who mourn: they shall be comforted.
Happy those who hunger and thirst for what is right: they shall be satisfied.
Happy the merciful: they shall have mercy shown them.
Happy the pure in heart: they shall see God.
Happy the peacemakers: they shall be called children of God.
Happy those who are persecuted in the cause of right: theirs is the kingdom of heaven.

'Happy are you when people abuse you and persecute you and speak all kinds of calumny against you on my account.
Rejoice and be glad, for your reward will be great in heaven.'
(Matthew 5:1-12)


Read the Gospel reflection for this Sunday.
Join us in celebrating at home this Sunday using the resources below.
Celebrating At Home for All Saints PDF
Celebrating At Home for All Saints EPUB
Lectio Divina for All Saints PDF
Lectio Divina for All Saints EPUB