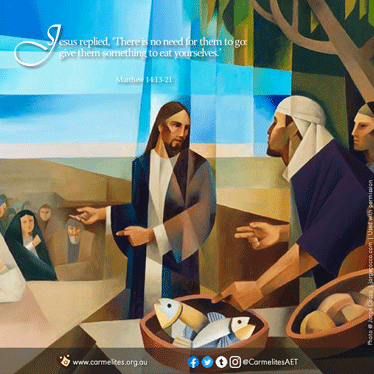 This week's Gospel is the beginning of a new section of St Matthew's Gospel which talks about the Kingdom of God on earth and the Church as a visible sign of the Kingdom. The Kingdom is found where human beings are. It is deeply enfolded and immersed in the world of human experience: hunger, fear, disease, the sound of sheer silence, celebration, joy, hope, forgiveness, mercy, justice, in hearing and keeping the word of God.
The kingdom is made present especially when human needs are responded to and transformed with the life of God.
In today's Gospel, we encounter several human situations: Jesus' own need to grieve the death of John the Baptist; a large group of distressed people who search him out; a large group of hungry people; a group of disciples in training.
Jesus is moved with compassion for the crowd in spite of his own grief. As evening approaches, the disciples want to send the people away, but Jesus wants to feed them. He invites the disciples into a moment of reflection, training them to have confidence, to show initiative, to be leaders.
Jesus uses the common Jewish meal ritual of blessing, breaking and giving to feed the crowd with just five loaves and two fish. By working with Jesus and entrusting him with the little they have, the huge crowd is fed. What, at first, seemed so inadequate became more than enough.
Like Jesus, the disciple has to learn how to touch the world of human need with the transforming life of God. Like the huge crowd we can be oblivious to God's action revealed in the goodness of other people.
Sometimes we, too, need to lift up our heads to see what is really happening and recognise how many times in the ordinary circumstances of life God favours us with moments of grace. God continually invites us to see what is really going on and how extraordinary the ordinary can be when we see with God's eyes.
Join us in Celebrating at home this Sunday using the links below.
Celebrating At Home for 18 Sunday in Ordinary Time PDF
Celebrating At Home for 18 Sunday in Ordinary Time iPhone & iPad
Lectio Divina for 18 Sunday in Ordinary Time PDF
Lectio Divina for 18 Sunday in Ordinary Time iPhone iPad