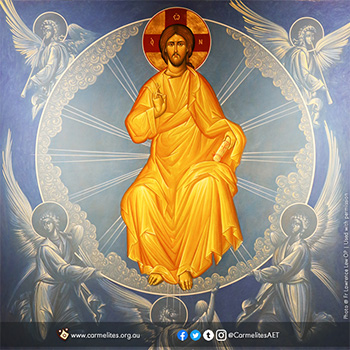 St Therese of Lisieux once said that her vocation was to be 'love in the heart of the Church'. In this week's Gospel we hear Jesus commission the disciples to go out and make disciples of all the nations, to baptise them and to teach them his way. But the disciples are not left to do all that on their own. Jesus promises that he is with them always. The way in which Jesus will be with them is through the coming of the Holy Spirit which we celebrate next Sunday.

Jesus has called the ragged group of disciples, scattered after his crucifixion, back to himself to form them, fragile and doubtful as they are, into a community for mission in the name of God. It is comforting to recognise that Jesus doesn't insist on perfection before he calls us and entrusts us with his mission to act as God would act, true to God's heart as Jesus has taught us - to be love in the heart of the world.
We have all been through a lot in the last couple of months. We know how fear and uncertainty reduce our capacity to think about and feel for others. We saw what happened during those awful fights in the supermarkets over toilet paper. But we have also seen great moments when people have done extraordinary things to look after others. Like cooking meals for doctors and nurses in our hospitals, for vulnerable people and international students stranded here.

I've been so heartened by all the different and creative ways in which people have 'stepped up' to make life a bit easier for others. And I really hope it doesn't all end once we get through this crisis. Those people have really been God's heart, God's love in action, in the world.

The feasts of the Ascension and Pentecost help us to realise that we are part of a long tradition of faithful disciples. We have our faults and failings, but we are still called to witness to and teach the way of Jesus by the kind of people we are, the values and attitudes we hold, in thought, word and action - to be the living presence of God in the world today.

We continue to hold you all in our hearts and in our prayer.

Join us in Celebrating At Home this Sunday using the links below.
Celebrating At Home for Ascension Sunday PDF
Celebrating At Home for Ascension Sunday for iPhone & iPad
You can also This email address is being protected from spambots. You need JavaScript enabled to view it. the names of people you would like us to remember in our prayer. You can order our Gift of Prayer cards to let those you love know we are praying for them. You can also ask us by phone (03) 9690 8822 or This email address is being protected from spambots. You need JavaScript enabled to view it. to put you in touch with one of our Lay Carmelites to chat with you or a loved one.