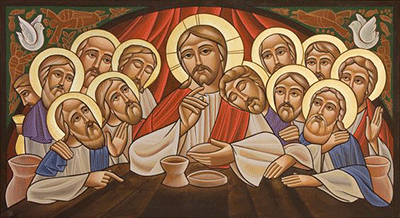 For many over these last few weeks there have been feelings of isolation, loneliness and abandonment. All our routines have changed and we have lost our sense of the familiar and the secure. We are separated from those we love. was quite shocked to see the empty shelves in Woolies. I had never seen that before. I had taken it for granted that they would always be full. All of a sudden they weren't.
I'm sure the disciples, too, felt very disturbed when Jesus started talking about a time when he would no longer be with them – a time when life as they knew it would come to an end. In St John's Gospel, Jesus gives a very long farewell speech during the meal he shared with them before his death. Part of the speech is this Sunday's Gospel.
Yes, Jesus is going away but he will not abandon his loved ones, he will come back. In the meantime, he will not leave them to battle on alone or to figure it all out by themselves. He will send them a helper, an Advocate as a pledge of his love for them.
This Holy Spirit will help them to continue to be love – in love with God, with Jesus, with the world and its peoples. Through this Spirit, the disciples will not only remain in Jesus' heart and feel him near, they will be able to be God's love in the world.
The Gospel today reads like a love poem. We are wrapped up in the love of God, shown to us in Christ, given to us by the Spirit that we might be God's love in the world and share God's life even now and for ever. Jesus is God with us.
pdf Celebrating At Home for Sixth Sunday of Easter PDF format (241 KB)
default Celebrating At Home for Sixth Sunday of Easter iPhone & iPad (757 KB)
pdf Lectio Divina for Sixth Sunday of Easter PDF format (268 KB)
default Lectio Divina for Sixth Sunday of Easter iPhone & iPad (1.11 MB)