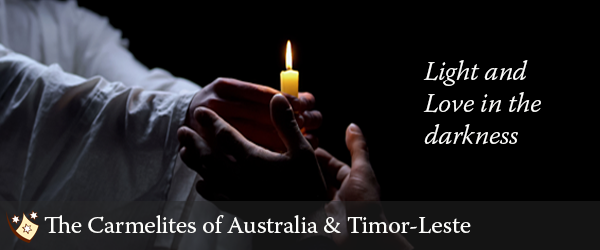 The Carmelites of Australia & Timor-Leste offer you our support in these uncertain and difficult times.
We are praying for the whole world, and especially, for all those who are members of our wider Carmelite Family.

Each week we will offer a variety of prayers, reflections, Lectio Divina and liturgies to celebrate at home when you cannot celebrate in Church - our Celebrating at Home series.
A blessing or a burden?
Almost all of us have felt the burden of coronavirus in our country. For most it is the burden of fear and uncertainty, worry and concern. Others also had to deal with the burden of the illness itself and its effect on those they love. All of us have been burdened by lockdowns and shortages.

In the ancient world, long before tractors and other farm machinery, oxen were used to plough fields and crush grain and other tasks. Typically, two oxen, one older and one younger, were harnessed together using a yoke. Words from the farmer, rather than whips, were usually used to tell the oxen what to do. The older ox had already learnt the meaning of the words. As he responded to the farmer's words he taught the younger ox to do the same. Together they shared the burden of pulling the plough, turning the millstone, etc.

This evocative image is used in the Gospel this Sunday. Jesus says, 'Come to me, all you who labour and are overburdened, and I will give you rest. Shoulder my yoke and learn from me, for I am gentle and humble in heart, and you will find rest for your souls. Yes, my yoke is easy and my burden light.'

In the image of the yoke and the ox perhaps the farmer is God. Jesus, who has learnt God's word, offers to team-up with us to help us learn God's word from his example. That example is communicated through gentleness and humbleness. Tying ourselves to Jesus does not bring us more burden, rather he is willing to share the burdens with us, to lighten the loads we carry.

That also begs the question about how we behave with one another: are we a burden or a blessing for each other? What can we do to make life easier for each other - to lift the burdens and share the load, especially in these anxious times?
Join us in celebrating at home this Sunday using the links below.
Celebrating At Home 14 Sunday in Ordinary Time PDF
Celebrating At Home 14 Sunday in Ordinary Time iPhone & iPad
Lectio Divina for 14 Sunday in Ordinary Time PDF
Lectio Divina for 14 Sunday in Ordinary Time iPhone & iPad
We continue to hold you all in our hearts and in our prayer.

You can also This email address is being protected from spambots. You need JavaScript enabled to view it. the names of people you would like us to remember in our prayer. You can order our Gift of Prayer cards to let those you love know we are praying for them. You can also ask us by phone (03) 9690 8822 or This email address is being protected from spambots. You need JavaScript enabled to view it. to put you in touch with one of our Lay Carmelites to chat with you or a loved one.

Remember, you are not alone - we are praying for you and your loved ones.

'The light shines in the darkness, a light that darkness cannot overpower.' (John 1:5)

The Carmelites of Australia & Timor-Leste
You can subscribe to our newsletter by entering your details below.