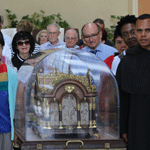 The relics of St Therese of Lisieux and her parents Zelie and Louis Martin visited the Carmelite Parish of Coorparoo (QLD) on their first stop in the Sunshine State.
'Coorparoo relics organising committee chair John Clarke said the visit was a great opportunity to showcase the contemplation and hospitality the Carmelites were known for.
Mr Clarke saw about 300 people visit the relics at Coorparoo. "I think there were some people who absolutely loved St Therese, and really relate to the ordinariness her story exemplifies," he said.
"I think the ability to remind ourselves it's the ordinariness that she represents that we can all aspire to – doing the ordinary extraordinarily well."
Mr Clarke said having her parents there too showed it was the influence of the parents in the ordinary that allowed someone like St Therese "to be the person she was".' [The Catholic Leader]
The program included Prayer, Mass, Veneration and a reflection on the story of the three Saints.