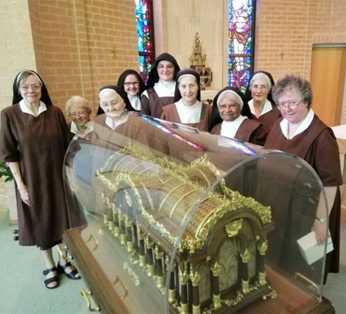 The relics of St Thérèse of Lisieux and her parents, Zélie and Louis, have arrived in Australia on tour until mid-May this year.
Among the many churches and religious houses they will visit are our 3 Carmelite parishes in Brisbane, Sydney and Melbourne. Our Lady of Mt Carmel Church, Coorparoo, will be the first place the relics will visit in Brisbane on 6 February. Our Lady of Mt Carmel Church, Wentworthville will welcome the relics on 4 March and Our Lady of Mt Carmel Church, Middle Park on 18 April.
St Thérèse is one of the patron saints of mission. St Thérèse loved the work of mission and wanted to travel to spread the gospel all over the world and show how Jesus loves all people. Thérèse was born in France on 2 January 1873. She was the last of nine children born to Louis and Zelie Martin although only five of those children lived to reach adulthood.
Below are the details for the visit of the relics to the 3 Carmelite Churches. These details may change.
Further information here.


Our Lady of Mt Carmel Church, 4 Bennett Street, Wentworthville NSW 2145
Web: http://www.olmcwenty.org.au/ Phone 02 9631 8302

Wednesday 4 March
2.00pm Liturgy of the Word & Reception of the Relics
2.30pm-7.00pm Veneration
7.30pm Mass with Bishop Vincent
9.00pm Departure of Relics
Our Lady of Mt Carmel Church, 210 Richardson Street, Middle Park Vic 3206
Web: http://sj-mc.org.au Phone 03 9681 9600

Saturday 18 April
9.00am Mass
11.00am Talk on St Therese and her parents
12:00pm Rosary followed by Veneration
4.00pm Benediction & Veneration
6.00pm Eucharist
7.00pm - 10.00pm Veneration
Photo: Discalced Carmelite nuns with the reliquary of their 'little sister' St Therese of Lisieux on its arrival at their convent chapel on 23 January. PHOTO: Marilyn Rodrigues. Courtesy: The Catholic Weekly