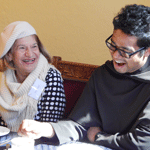 Some of our loyal donors have been supporting the Carmelites for over 30 years. They are our Lifetime Partners. Recently, we invited those in Victoria to join Fr David Hofman, Br Marcolino Gomes and our Fundraising & Development team, for a morning tea celebration in Middle Park.
We shared with them stories about the positive impact their support is making in Timor-Leste and Australia. We gave them a certificate, a pearl encrusted pin and a Timor-Leste bookmark. These small tokens are our way of saying Thank You – two words that we hold deep in our hearts for having them by our side.
We will be celebrating our Carmelite Lifetime Partners in New South Wales and Queensland in October.