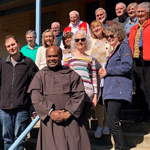 The Carmelite Family Retreat was recently held on the weekend 12-14 April 2019 at the beautiful seaside Retreat Centre 'Santa Casa ' located at Queenscliff on the Bellarine Peninsular in Victoria. It was attended by 21 members of the Carmelite Family, including representatives from the Lay Carmelite community Melbourne and regular participants of the Carmelite Centre programs. The Retreat was led by Fr Matthew McPhee who was assisted by fellow Carmelite Friar Paul Sireh. Paul led us in some very meditative and creative liturgies.
The theme of this silent Retreat was 'Vacare Deo' – making room for God.
Fr Matthew gave brief talks three times during the day inviting retreatants to reflect on three aspects of the spiritual life:
Having a desire for God
Making space for God, and
Acknowledging that this is all God's work
A special thanks to both Bernadette Micallef and Fr Matthew who provided times to meet with the retreatants for spiritual direction. Several retreatants took advantage of this opportunity and for some it offered clarification on how spiritual direction can assist in the faith journey.
Fr Paul's gift in creating reflective awareness through prayer and liturgies added to the experience of the silence of the weekend. In a world where life makes many demands on time, the opportunity to go away for a few days of silence was a very special time to share in the beauty of God's creation through personal and shared prayer. Whether it was walking the labyrinth, strolling along the beach, reading or simply sitting in stillness, many expressed an increasing sense of belonging to the Carmelite Family by experiencing the invitation to prayer and contemplation and the support and welcome of a Carmelite community.
Damien Peile
Provincial Delegate for the Carmelite Family