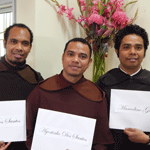 Brs Marcolino Gomes, Agostinho Dos Santos and Avelino Dos Santos recently graduated in their English courses at the English Language School for Pastoral Ministry, Box Hill (VIC). Marco passed his International English Language Test and will begin his theological studies at the University of Divinity this semester. Agostinho and Avelinho both progressed to the next stage of their English language studies.
The Graduation Mass took place at the Passionist Community in Templestowe with Fr Kevin Hennessey, CP, presiding.
A few days later students at ELSPM celebrated with a BBQ at Albert Park Lake.