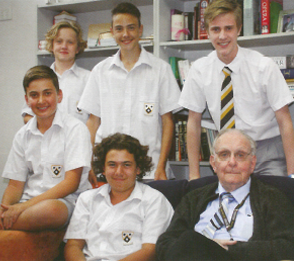 With deep sadness the Carmelites of Australia and East Timor announce the death of Whitefriars College Chaplain, Fr Vincent Noel Kierce.
Fr Noel died peacefully in his sleep today. He was 79 years old and had been a Carmelite for 60 years and a priest for 54.
Born in Melbourne in 1935 Fr Noel joined the Carmelites in 1954 and was ordained a priest on 6 January 1961.
Following his graduation in 1964 Fr Noel began his teaching career at St Simon Stock School, Pendle Hill, NSW. In 1968 he was assigned to teach at Whitefriars College, Donvale. He was Principal of the College from 1978 to 1988. Having completed his Master of Education degree in 1990 he returned to Whitefriars College as a teaching Chaplain from 1991 to 1996 when he was appointed Parish Priest of the Carmelite Parish of Port Adelaide, SA. Fr Noel returned to the College as Chaplain in 1999.
"Quite simply, he cares for people and he always has time for them. His office door is always open, and a warm welcome is always assured, whether for current students, old boys, parents or staff. And once established, the strong relationship remains." Neal Crossan, Charism Liaison Director, Whitefriars College.
Mr John Finn, Principal of Whitefriars College, greeted the news of Fr Noel's passing with 'great sadness and disbelief'.
"The College Community expresses our deep sympathy to Fr Noel's family and to the Carmelite Community. Fr Noel has been a devoted servant to the Carmelites and their ministries for over sixty years.
We know that we as the Whitefriars Community will be experiencing a great sense of loss. Fr Noel has been a confidante, pastor, companion and friend to staff, students and parents for many years.
We also know that the Lord will welcome a person of great faith and humble service into His eternal keeping.
Fr Noel lived out all that we aspire to at the College, especially our motto: Almae In Fide Parentis. May he rest in peace."
A pdf tribute to Fr Noel (1005 KB) appeared in the most recent issue of the College magazine, The Whitefriar.