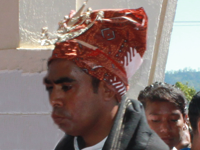 A convoy of cars and trucks escorted Frs Roque and Carlito to the Church. Local Scouts formed a guard of honour. At the outskirts of Letefoho, Frs Roque and Carlito were clothed in traditional dress by village elders. Fr Bruce Clark (Regional Prior) then joined them on the back of a truck for the final procession to the Church.
Roque and Carlito were escorted into the Church by members of their families and the village elders. After spending some time in prayer inside the Church, the joined the procession to an altar set up in the grounds for mass.
Carmelites from Fatuhada, Hera and Zumalai joined Roque's family and friends for the Mass and the celebrations which followed.
Click on the photos for a larger view.
{gallery}2015_Roque_MoT{/gallery}