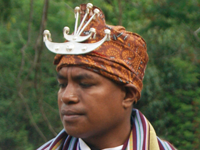 After spending some time in prayer, Fr Carlito celebrated his Mass of Thanksgiving with Fr Roque by his side. Also present were Fr Denis Andrew (Prior Provincial), Fr Bruce Clark (Regional Prior), Fr Wayne Stanhope (Director of Formation) and Carmelites from Fatuhada, Hera and Zumalai communities.
At the conclusion of Mass, Frs Carlito and Roque gave their blessing to the hundreds of people who attended the Mass. A feast, prepared by Carlito's family and villagers followed the Mass.
Click on the photos for a larger view.
{gallery}2015_Carlito_MoT{/gallery}