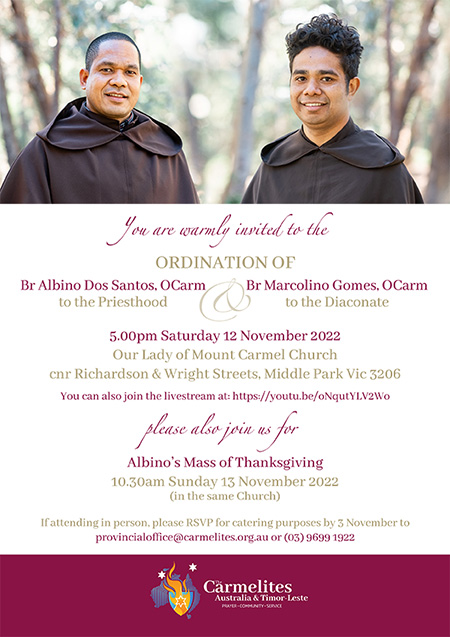 With joy and thanksgiving to God, the Carmelites of Australia & Timor-Leste announce that Br Albino Dos Santos will be ordained Priest and Br Marcolino Gomes will be ordained Deacon on 12 November this year by Bishop Anthony Ireland. The Ordination will take place during Mass at 5.00pm at Our Lady of Mount Carmel Church, Middle Park (VIC).
Albino and Marcolino first met at high school in 2004 and became firm friends. They were attending agricultural college in Los Palos, Timor-Leste where they studied veterinary science and agribusiness. After meeting some Carmelites, they applied to join the Order and began their formation in the Carmelite values of prayer, community and service in 2008. Following the novitiate, they made their first profession of vows in 2012. During the Novitiate, Albino says, he really 'fell in love' with being a Carmelite. Marco says that during his formation, "I have been enriched and strengthened by Carmelite Spirituality which has become part of my life".
After making their vows, Albino and Marco continued their Carmelite formation and studied Philosophy in Timor before coming to Australia to do their theological and ministerial training and practice. They made their Solemn Profession of Vows (life-long commitment) on 16 July 2020. During their training, both ministered to homeless people in Melbourne CBD and since August this year, Albino has been ministering as a deacon in the Carmelite Parish of Coorparoo (QLD).
"I have learnt a lot and I will continue to learn and to live from my pastoral ministry experience wherever I am and wherever I go," Albino said. "I feel grateful, joyful and honoured because whatever I do is God's mission through the way of life of Carmel."
Marco said, "For me, the most important thing is to be a Carmelite and I am looking forward to my ministry as a deacon in preaching and service in the Church community. I hope I can be an example and witness of God's love for all people."
You are warmly welcome to join us in person for the Ordination.
Please RSVP to This email address is being protected from spambots. You need JavaScript enabled to view it. or (03) 9699 1922.
You can also join us by livestream at: https://youtu.be/oNqutYLV2Wo
pdf Download the invitation here (552 KB)
Concelebrating priests please bring a full set of white vestments.