Saturday, 17 September 2022 16:22
St Albert of Jerusalem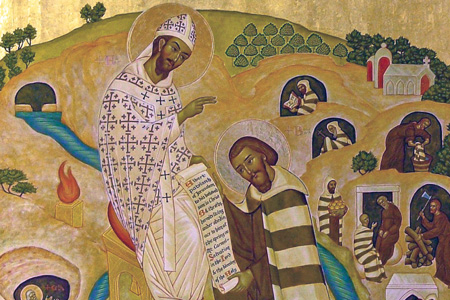 On 17 September Carmelites celebrate the Feast of the author of the Carmelite rule, St Albert of Jerusalem.
Albert did not impose all his own ideas on the group of hermits who came to him - he listened to what they told him about their way of life, and he adapted it and gave it structure.
In the instructions he gave to the first Carmelites, he is careful not to be too demanding or rigid - he stresses the importance of common sense in interpreting what has to be done. This openness and flexibility gives a great "human feel" to the Carmelite Rule.
For the Carmelite, after the Bible, the most important document in our lives is the Rule of St Albert. Despite being the shortest rule of all the religious orders it has nevertheless been a bedrock for Carmelite life in all its facets for over 800 years. St Albert was a brilliant mind who managed to fashion tremendous wisdom into his compact text.
Saint Albert of Jerusalem was born in Emilia, Italy in the mid-12th Century. He became a Canon Regular of the Holy Cross at Mortara (Pavia) where he was elected Prior in 1180. He was appointed Bishop of Bobbio in 1184 and of Vercelli the following year. During his 20 years there he undertook a number of missions of national and international importance. He brokered peace between the cities of Pavia and Milan in 1194 and between the cities of Parma and Piacenza in 1199. In 1191 he held a Diocesan Synod, the statutes and decrees of which continued to serve as a norm until modern times.
In 1205 he was elected Patriarch of Jerusalem and soon after nominated as papal legate for the ecclesiastical province of Jerusalem. He arrived in Palestine early in 1206, taking up residence at Acre, at the foot of Mount Carmel, as Jerusalem was occupied by the Saracens. In Palestine he continued his peace-making efforts not only between Christians but also between them and non-Christians.
On 14 September 1214 he was stabbed to death during a procession to celebrate the Feast of the Exaltation of the Cross by the Master of the Hospital of the Holy Spirit whom Albert had denounced for his unjust and abusive behaviour.
Somewhere between his arrival in Palestine in 1206 and his death in 1214 the first group of Carmelites asked Albert to write for them a "formula of life" which later became the Carmelite Rule approved by Pope Innocent VI in 1247.