"In 7 minutes, my whole world turned upside down…"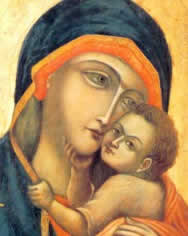 Rachele's story is an extraordinary story of one mother's experience of meeting 'head on' her 16 year old son's sudden and catastrophic illness, the result of an undiagnosed bleeding deep in his brain.
Rachele stands in a long tradition of mothers who managed to 'hold it all together' for their families through the thick and the thin of life. Courageous women who responded with strength and determination when their family was threatened.
It is mothers like Rachele we remember, give thanks and pray for every year in our Mothers' Mass at the National Shrine of Our Lady of Mount Carmel.
This year's Mass is at 10.30am on Sunday 20 July at the National Shrine of Our Lady of Mount Carmel, cnr Richardson and Wright Streets, Middle Park.
You are warmly invited to join us for this celebration.
You can send us the names of all mothers (living and deceased) you would like us to pray for during this mass.
You can help The Carmelites be there for mothers like Rachele providing comfort, prayer, pastoral and practical support in Australia and East Timor by making your donation here.
You can read Rachele's story here. You can download
Racheles Story (2.21 MB) here.