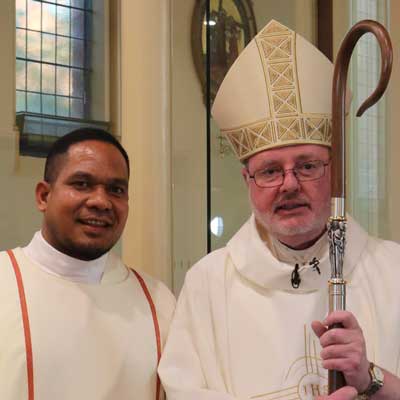 Br Albino Dos Santos was ordained a Deacon by Bishop Anthony Ireland on Saturday 20 November. Parishioners, members of the Timor-Leste community and Carmelites came together for the ceremony. In his homily, Bishop Ireland drew attention to Albino's primary vocation as a Carmelite and his new ministry of service as a Deacon. "Whilst you may have been an 'accidental Carmelite' joining because one of your friends was doing the entrance test for the Carmelites, you have found your home with them," Bishop Ireland said. "Christ the King, the vulnerable King, does not have subjects, he has disciples, followers and, in his own words, friends. And you, Albino, as one of his deacons and as a Carmelite are, from his day forward, to be one of his closest friends."
Relatives, friends and Carmelites in Timor-Leste watched the Ordination via livestream.
Albino is currently completing his Master of Theological Studies through the University of Divinity, Melbourne.
You can watch the livestream below. Photos from the Ordination below.