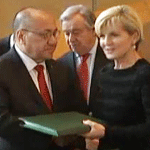 Australia and Timor-Leste have signed a new treaty establishing a permanent maritime border between the two nations. The treaty was signed at the United Nations Headquarters in New York on 6 March by East Timor's Deputy Prime Minister, Agio Pereira, and Australian Foreign Minister, Julie Bishop.
The new treaty gives Timor-Leste a greater share of the revenue from the Greater Sunrise oil and gas deposit which lies between Timor-Leste and Australia and is vital for the economic future of Timor-Leste.
There is no agreement yet, however, about where the oil and gas reserves will be processed. Timor-Leste wants processing to happen on its shores and has offered to accept 70% of the revenue if it does. Australia has offered 80% of the revenue to Timor-Leste if processing happens in Darwin. Negotiations are ongoing.
According to reports, Timor's chief negotiator and former president Xanana Gusmao, has accused Australia of colluding with resource companies to ensure that the resources are piped 450km to Darwin rather than 150km to Timor for processing.
Timor-Leste's patience and persistence in taking Australia through the process of compulsory conciliation at the UN has paid off. From the initial treaty with the Australian Howard Government which gave Timor just 18% of revenue, Timor now stands to receive between 70 and 80%.