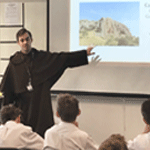 Every person has a story. Stories are rich messages about who we are and who we want to become. This term in Religious Education, our new Year 7 students have been learning about the Whitefriars story in the unit Belonging to Community.
Brothers Sean Keefe and Matthew Tonini generously volunteered their time during the last few weeks to visit each of the Year 7 Religious Education classes to educate our boys about the story of the Carmelites, and how that vision of community, prayer and action shaped, and shapes, the story of Whitefriars.
Brs. Sean and Matthew taught how the first Carmelites on Mount Carmel drew inspiration from the story of Elijah.
Elijah expected to find God in the extraordinary - in the strong wind, the powerful earthquake or consuming fire - but he came away disappointed. Unexpectedly, Elijah discovered the presence of God in the least likely of places: a still, small voice in the silence of a cave (1 Kings 19: 11-12). For Elijah and the first Carmelites, God is found in the ordinary and not the extraordinary. This story has inspired almost a thousand years of Carmelite history - from the hermit caves of Mount Carmel, to the medieval universities of Europe, to the mission in Timor Leste and to the educational ministry of Whitefriars.
In today's world where what it means to be Church is changing, the boys learned from Brs. Sean and Matthew that finding God in the ordinary is experienced by our living community, our encountering prayer and our committing to action - all central tenants of what it means to be a Whitefriars gentleman.
Joshua Vujcich
Learning Leader - Religious Education, Whitefriars College
Reprinted from 'In Fide' newsletter Issue 3, 9 March 2018