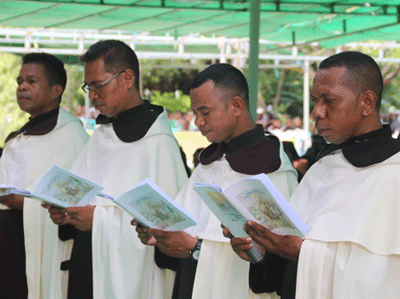 More than 3,000 people gathered at the Carmelite community in Hera, Timor-Leste, to celebrate the Solemn Profession (life commitment) and First Profession (initial commitment) of 9 Carmelites.
Brs Amandio Soares Salsinha, Narcizio da Costa Vilanova, Silvestre Alves and Agostinho Dos Santos made their Solemn Profession and Brs Virgilio de Jesus Brites, Honorio Pereira Babo Lobato, Ponciano Norberto de Deus, Natasio de Jesus Maia and António Preto da Costa Soares made their First Profession.
The ceremony began with traditional Timorese dancing and concluded with a great feast. Fr Carlito Da Costa Araújo, Provincial Delegate for Timor-Leste, presided in place of Fr Paul Cahill (Prior Provincial) who could not attend due to COVID travel restrictions.
Amandio, Narcizio, Silvestre and Agostinho will continue their theological studies at the local Diocesan Seminary.
Virgilio, Honorio, Ponciano, Natasio and António will begin their philosophy studies next year. They recently completed their Novitiate year accompanied by Fr Bruce Clark (Novice Director).
Our warm congratulations go to each of these brothers on taking these significant steps on their Carmelite journey.