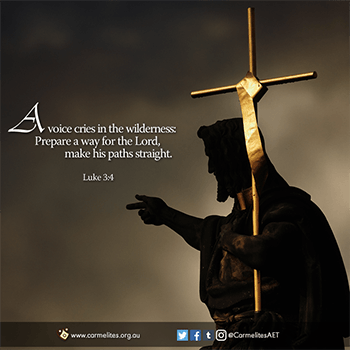 The sense of preparation is very strong in our readings this weekend. The Gospel highlights the role of John the Baptist as the one who prepares the way for Jesus. It was John's ministry of preaching and baptism which laid the foundation for Jesus' ministry. The idea of repentance has less to do with feeling sorry for individual sins and more to do with turning around and facing in a new direction. John's call to the people was to turn away from the old way of life and to turn towards God.

The first reading from the prophet Baruch is a call to do the same. It talks about taking off the dress of sorrow and distress and putting on the beauty and glory of God. It's a call for the people to become God's people. God will lower the mountains and smooth the way so that God's people can walk in safety, guided by God's light and escorted by mercy and integrity.
In the Gospel, Luke refers to a similar text found in the writings of the prophet Isaiah. Making straight paths for the Lord can be understood as the radical change of behaviour away from sin and towards God. That is what enables us to become more fully aware of the Lord's presence within us so that God's mercy and salvation can be seen in us.