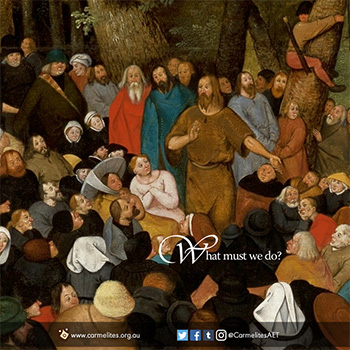 This Sunday marks the turning point in our Advent Prayer. Traditionally, the third Sunday of Advent is called Gaudete (rejoicing) Sunday. The rose-coloured vestments, candles and cloths strike a sharp note of joy in the midst of the Advent purple. Feelings of expectation and rejoicing dominate the prayers and readings of this part of Advent as we grow closer to celebrating the Christmas feast as a celebration of the enduring presence of Christ in us.
The first reading is a call to rejoice in the expectation of God's liberation. When that day comes, the reading says, God will renew his people with love and will dance for joy in their midst.
In the Gospel, John the Baptist's preaching provokes questions from the people. "What must we do?" they ask. John calls them to show their conversion by a new way of living. He doesn't tell them to offer sacrifices nor to fast, but to act with selfless concern for their disadvantaged brothers and sisters.
The power of John's preaching also provoked a growing feeling of expectancy among the people: Is he the long-awaited Messiah? John says he is not the One they are waiting for. That One will baptise with the Holy Spirit and with fire. Learning the way of Christ is how we become the wheat in the Kingdom of God, not the chaff in the fire.